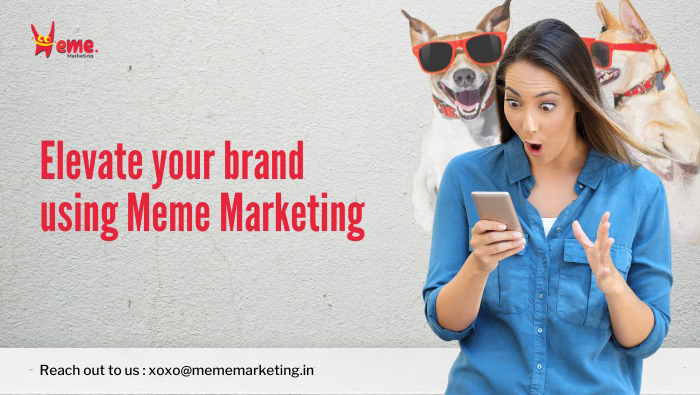 Taking the cue from the major brands in India, including Netflix, Disney+hotstar, Zomato, and Brand Factory, have adopted meme marketing agency as a marketing tool. It is not only a creative method but also a cost-effective and eye-balls grabbing way to promote your products and services.
Meme Marketing is the new-age marketing strategy that employs memes to promote a brand in a subtle yet humorous manner. It is an effective tool that does not appear as pushy or trying too hard to sell something to potential customers.
Memes are created on the latest trends or viral content and relevance to your business to give your audience something to laugh at and relate to. They are successful in leaving an impressionable image on people's minds about your brand. The fun element in memes not only helps build engagement with the audience but also makes them remember your brand because it is funny and relatable.
Memes are popular because they hold the ability to convey information in a short and crisp manner. Memes take the most insignificant details, such as crowds gathered around JCBs on the job, and transform them into a force to be reckoned with, such as elections. Memes are created by consumers, so they have a much better understanding of their intended audience.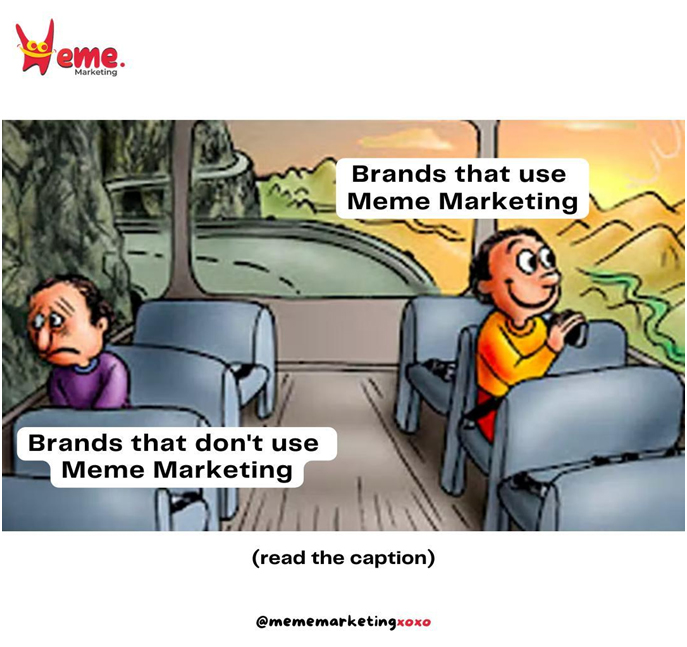 One of the key factors that make memes a wonderful fit for social media marketing strategy and brand recognition, is their unique ability to express what is on people's minds in a simplified, hilarious, and shareable way.
The newness, now-ness, and timely-ness also contribute in a significant way to holding people's attention in a world where they have neither time nor patience to read long-form content.
Then there is this slowly growing understanding that customers are no longer responsive to the old-fashioned direct and hit-on-the-face marketing techniques. They don't want to be targeted as mere numbers to extract benefits from. They want to be approached with a human-like tone and something to connect with. Memes have been banking on these contemporary needs by mixing bit-size information with casual comedy.
Neha Puri, CEO, of VAVO Digital, told The Economic Times, "Social media memes are now used to promote brand awareness in such a way to leave a lasting impression. This has given rise to the trend of generating viral content for brands that can be shared among consumers for easy and quick brand promotion."
Memes can give your brand the following advantages: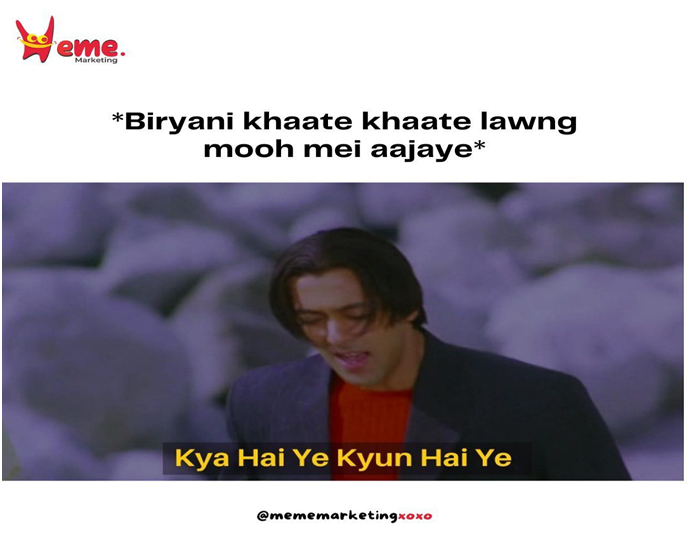 Boosting brand visibility:
OUsing a relatively small space and texts but with the help of images, videos, and other graphics, memes are becoming highly effective marketing tools. By subtly positioning your brand within a meme, you make your brand visible as more and more people are interacting with memes. People will be able to associate your brand with a meme as they are funny and relatable.
Customer engagement:
This has been observed recently that branded marketing is not very effective to generate brand engagement with customers. On the other hand, memes have the ability to grow viral very quickly as compared to only photos and videos. Memes are easily shareable so they will be shared by Internet users more than promoted or sponsored content. So they will naturally increase the brand's engagement.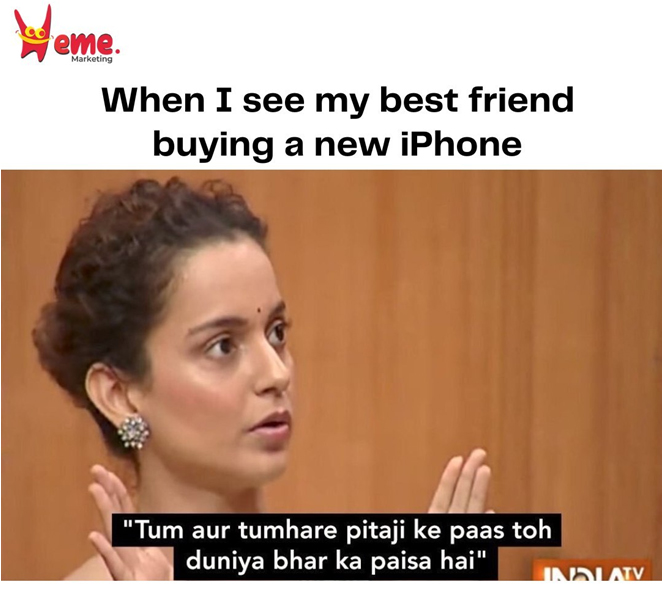 Cost-effective:
Memes are not only easy to make, using just images/videos and simple text but there is also almost no spending on memes required. You don't have to create memes out of thin air and too much ideation. It is an art form of picking up trendy content and making it relevant and relatable for your consumers. You don't have to buy expensive software or equipment either, to churn out memes. This makes meme marketing a money-saving social media strategy.
Increases Virality:
Every brand wishes to go viral, every now and then. Unfortunately, their wishes cannot be fulfilled with their normal social media posts. That's where meme marketing agency comes in. Meme Marketing agency have the magic to make content viral in no time. Thus, they can help the brands to reach the maximum number of screens as rapidly as possible.
Attention-grabbing:
Research evidence suggests that the average attention span of human beings towards text or visuals has been significantly reduced to 9 seconds, which is smaller than a goldfish even. Considering that fact, memes are more effective as they combine both text and visual elements to capture the viewer's attention within fewer seconds and more effectively.
The old-age satirical style of meme-making is now a big catalyst in the world of digital marketing. Consumers may quickly and easily respond to a brand and business as a whole by using memes on digital platforms. Implementing meme marketing strategy into the digital marketing component of a company seems to be the only natural transition from a perishable trend to a new-age phenomenon.
People are increasingly becoming more hungry for such content these days, so a dynamic approach is required to capture the attention of this generation that expects everything instantly. Meme marketing agency is effective at increasing brand engagement. It assists them in increasing page engagement, building an audience community, and improving branding.
So, whether it's Neeraj Chopra winning gold in Javelin throw, a sport little-known in India, or a political gaffe, memes flood social media platforms in seconds. And brands have gradually learned how to capitalize on it.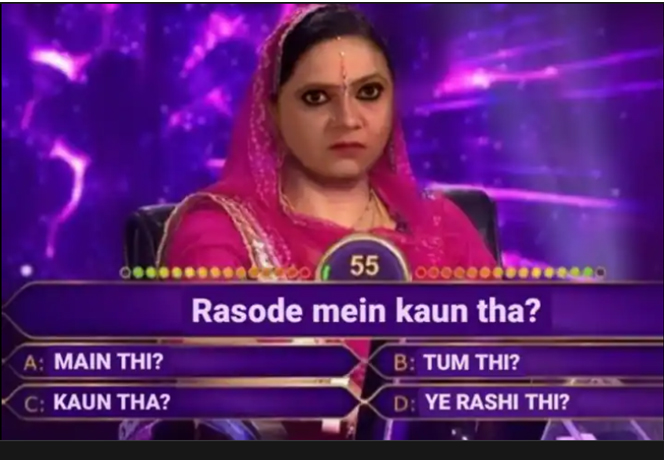 The "Rasode main kaun tha" meme, based on a scene from a daily soap Saath Nibhana Saathiya that aired on Star Plus channel, went viral on social media in 2020. The meme featured a mother-in-law and her daughter-in-law getting into a violent argument about who was in the kitchen.
Most recently, after the trailer for the film Brahmastra, starring Amitabh Bachchan, Alia Bhatt, and Ranbir Kapoor, was released, netizens started sharing their funny takes on it. "Kuch rishta hai mera aag se" (I have a peculiar connection with fire), a line spoken by Shiva, played by Ranbir Kapoor in the trailer, became a meme in a blink of an eye. A number of companies, including Tinder, Dunzo, Zepto, and Voot, quickly picked up on the joke and released their own versions of it.
The social ladder has witnessed a change in its structure due to the abrupt eruption of memes. It was once considered a form of entertainment, funny, passively engaging, or visual media that frequently indulged netizens in for a quick diversion or to relieve daily stress. It is now being employed by brands to market their products, by businesses and government agencies to raise public awareness of a wide range of social stigmas.
Economy of Memes
Memes are rapidly evolving into a source of information for customers. According to Aditya Sobti, creative director at Schbang, a creative and technology transformation business that aids brands in planning marketing campaigns, memes—often created around topical topics—have now become a source of information for many people on the Internet.
The meme marketing agency combines a minimal business model with labor to huge impact. Memes that are popular on social media are typically made by students, who are more than happy to give shape to their creative ideas and monetize the same to make just about enough for their pocket money, in contrast to other industries that must support significant labor expenses. "There are thousands of kids sitting there wanting to make quick bucks by making memes. Professionals drawing heavy salaries are not making memes, the labor cost is cheap," Sobti told Fortune India.
In many aspects, the cost of creating a meme is low due to the cheap labor that is readily available. In addition to the conversational nature of memes, this low-cost economic framework has encouraged many firms, particularly the new-age ones, to use meme marketing. Smaller firms find it simpler because it is less expensive to advertise, according to Sobti. In addition, D2C firms nowadays are not even considering traditional forms of advertising in order to win over the wallet share of Gen Z and millennials, who are riding the meme wave.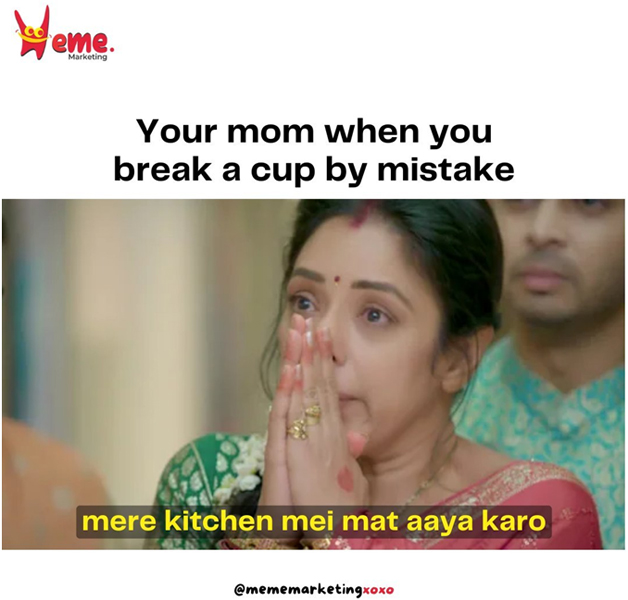 Evolution of Meme Culture
Meme culture is defined as an artifact of visual content with a clever caption that conveys a message or represents a cultural reference. Other visual media, such as GIFs and movies, are, however, very popular among meme-lords. The term "meme" was coined in the pre-Facebook or Twitter era. Meme culture has grown to be a significant part of Internet culture in general, and while some people may disagree with the content of some memes, they continue to delight people of all ages worldwide. Consumer companies that have established a good marketing strategy by speaking millennials' language were the first to recognize the potential of memes on social media.
Traditional advertising has taken a back seat while Meme Marketing took center stage in the post-covid era. This marketing strategy recently gained importance thanks to the Pandemic. Users were forced to spend more time on their screens during Lockdown in the hopes that distraction and memes would prove to be helpful. Memes have developed into the link between marketers and their intended audience as people spend more time indoors and with only their phones for company. A study published in the Psychology of Popular Media journal, too, established that memes helped people cope with life during the COVID-19 pandemic.
Meme advertising or 'memevertising', as it is called in industry parlance, is a very targeted form of advertising. Meme pages and meme apps are usually followed by people belonging to certain age groups and it is, therefore, easier to place targeted ads, unlike advertising, say on Facebook (Meta) where the ads are seen by many, including people who may not be a potential buyer, explain industry analysts.
As mentioned earlier in this blog, brands are creating and sharing memes by including Meme Marketing agency in their core social media strategy. Outlook maintains that, as a result, they are generating a 10% increased share of reach and 60% more genuine engagement with their social media platforms.
Let's See How Brands Stole the Show with Memes!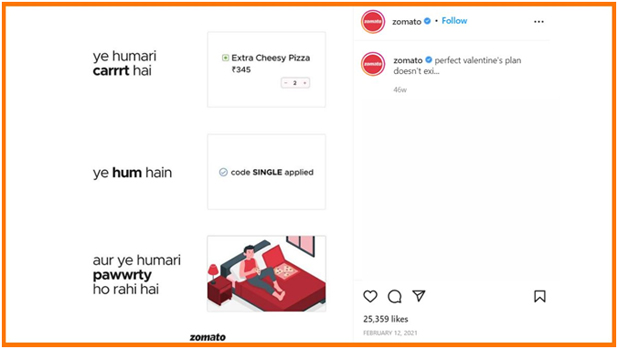 Zomato
Whenever we think of ordering food online, Zomato is probably the first brand we think of. In fact, it has made its marketing successful that instead of saying "let's order food online", we found ourselves saying "let's order from Zomato".
With its meme marketing, the brand has recently gained enormous popularity. When you go to its Instagram page, you will see a variety of Zomato memes. They advertise with extremely creative and relatable memes. Zomato appears to have a meme for everything, whether it's a new television series, dialogues from films, or anything else.
Zomato shared a humorous post on social media on Independence Day "Sorry, we aren't accepting orders anymore - India, 15th August 1947." It was a simple yet clever show-stealing example of meme marketing.
Many people might have missed the context as the post was clever but risky. But proved to be highly successful. It received numerous retweets and shares across social media platforms, and Zomato gained some brownie points.
According to the data, advertising spending has decreased. This suggests that the reduction in expenditure during the COVID period would have caused the company to look for new methods of advertising, as well as innovative marketing methods. This is apparent in their meme-based marketing on social media engagement. The brand has also sent out automatically generated personalized emails or notifications to targeted consumers in order to advertise, resulting in greater reach.
Zomato is utilizing its content marketing strategy to boost consumer engagement in the domain. There are numerous reasons why Zomato's marketing strategy is distinct and extremely effective. A highly effective Search Engine Optimization strategy, including the use of relevant keywords and backlinking, is the reason behind Zomato's website and social media handles high ranking. The messages, whether memes or general notifications are extremely creative. Zomato communicates messages in a unique way by using the quickest and easiest memes and photos. People appreciate how Zomato is constantly evolving its point of view on food rather than just doing marketing strategy. The "timing" of memes or messages shared by Zomato, as well as the aspect of "humor," is what draws people in.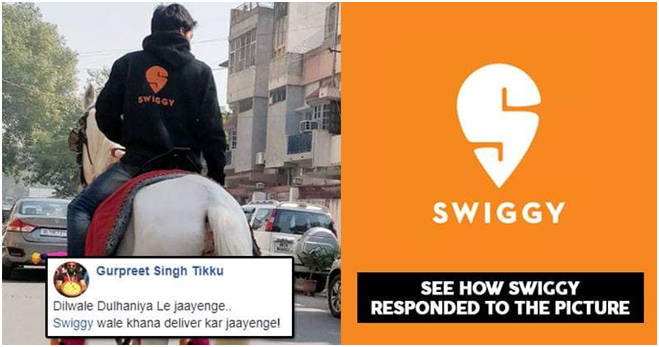 Swiggy
Swiggy, Zomato's competitor, has also adopted meme marketing strategy as a full-fledged language to tweet about offers, discounts, and other topics.
Going as per with Zomato, Swiggy, too, penetrated Twitter trends and extensively used the Internet users, obsessed with social media, to its advantage by tweeting about the lockdown and its various aspects. It also mentioned coffee trends on Twitter, as many people were sharing their coffee drinking habits only, as well as the 'dal-chawal' combination, which is a commonly eaten combo in Indian households.
The main feature is that it takes into account social media trends and sends out tweets that are both subtle and relatable. A few examples include the promotion of the KGF 2 film and acknowledgment of MS Dhoni's recent innings in an IPL match that many ardent cricket fans touted as an edge-of-seat thriller. Reputed brands are contacting best social media company.
Tinder India
Tinder also uses influencers to promote memes. Influencers from the meme community aid in the brand's popularity. It also assists the brand in leveraging the influencers' audience.
Being very active and up-to-date with memes gives Tinder an advantage over competing dating apps. With a slew of witty memes, the brand gained instant popularity, as well as followers who could be potential customers.
Tinder launched a new brand campaign called 'Adulting Can Wait.' The campaign began with a video advertisement and is now receiving support from outdoor and digital media networks through the release of memes. This campaign aims to quash stereotypes about adulthood and to spread the message of keeping the child within you alive.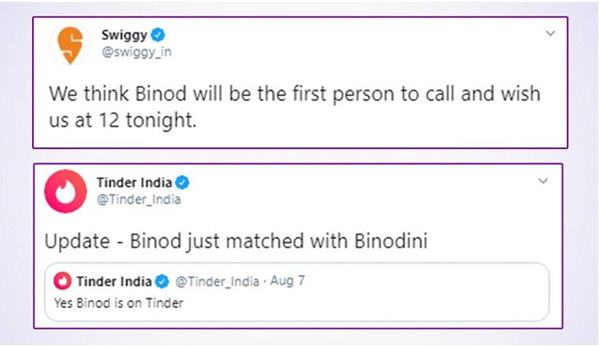 Both digital media and outdoor memes have aided the brand in generating hype among its target audience. Often, brands overlook the opportunity to use meme marketing company , but Tinder played smart on this and is reaping significant benefits from it. Take a look at the creatives we're referring to
In Digital Media:
Outdoor Media:
Tinder also came to the rescue during the lockdown, when going out on a date was not a possibility. Swiping on Tinder increased by 39% during the initial coronavirus time, with Gen Z users swiping more than any other age group.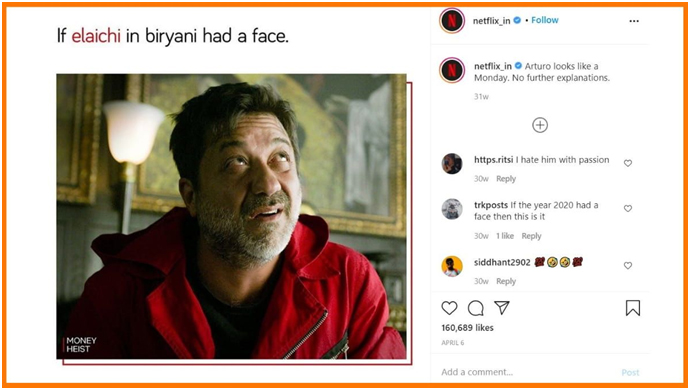 Netflix
The OTT platform has a significant fan base. Netflix has become a sort of new best friend to today's generation of Internet users. It employs a highly imaginative and successful meme marketing agency.
Netflix has taken this strategy to a new level. They've set up an Instagram account called 'Netflix is a joke/ Netflix Comedy.' This page is solely dedicated to the distribution of meme content. The company even requests and shares templates of memes so that its followers on social media create memes on their own. This has increased customer activity, allowing Netflix to expand its audience.
Netflix represents itself as a brand that truly knows the youth and, more importantly, could even make jokes at its own expense by utilizing meme trends and meme-ing its own shows and films. When the internet was flooded with jokes about how Radhika Apte can be seen in almost all Netflix's Originals, Netflix parodied itself and tweeted about its admiration for the actress. This resulted in a high level of fan engagement which is very profitable, as in the case of BirdBox. Some new titles that do not receive extensive advertising end up drawing a greater viewership through retweets or viral hashtags.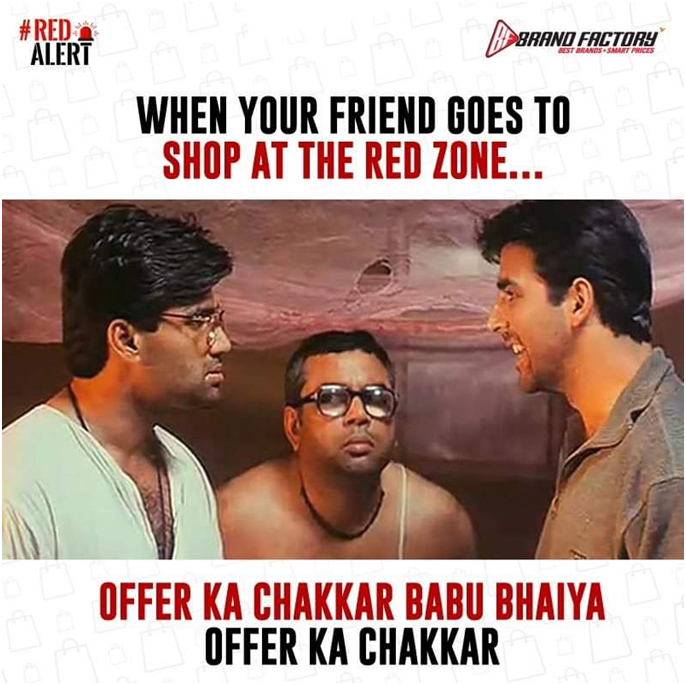 Brand Factory
Technically, there is no difference between saying Brand Factory or Offers. Brand Factory has established itself in the market by offering a diverse range of clothing brands under one roof. It has also come up, time and again, with incredible deals that appeal to buyers across various groups. Following the trending norm, the brand has incorporated meme marketing into its marketing strategy.
Brand Factory, known for giving discounts on fashion brands, has captured the attention of millennials with its witty, humourous, and well-timed memes. The brand's marketing strategy was previously centered on various offers and brand promotions, which has now upgraded to 'Best Brands. Smart Prices.' with the goal of being considered as a go-to place to shop for brands.
Even though they launched their #DontGetFooled campaign in mainstream media, much of the noise around it was driven by meme marketing on digital platforms.
They have assimilated into daily youth conversations. Brand Factory jumped on board and joined the conversation by creating their own memes based on current events, popular TV shows, movies, news, web series, popular videos, and more.
They publish several humorous memes to meet their marketing goals. The Indian meme "Hello Fraands, Chai Peelo," which went viral some time back, was once used by it. The original form of the phrase Hello Fraands, Shopping Karlo" was used. The brand's meme gained a lot of engagement and reach.
Roch D'Souza, CMO, Brand Factory told Financial Express, "If something is trending, we pick it up and put out our take as a brand via memes. " He also said. "If we compare the reach we get for our posts versus memes, the latter organically generates very high reach and engagement."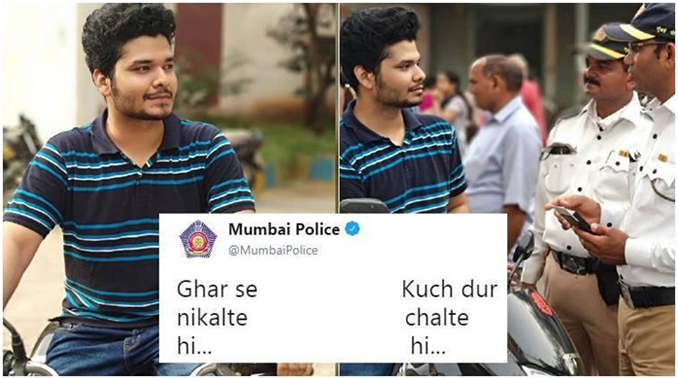 Mumbai Police
Mumbai Police's social media accounts have broken all the myths about being a serious law and order enforcement agency. It has established itself as a creative meme maker by sending out heart-warming messages in the public interest through quirky and relatable content. Their memes are hugely popular among Internet users. Mumbai Police has garnered numerous praises for spreading awareness on social issues using viral memes. In fact, some Twitter users even started calling it Meme-bai Police instead.
Their knowledge of popular culture and trendy topics is always on point. From 'Rasode Mein Kaun Tha' to popular Harry Potter catchphrases, they have been churning out all the trending topics to create memes that have gone viral within seconds. Some of their followers have also declared that Mumbai Police should increase the salary of the person who is managing their social media accounts.
Durex
Durex is one such condom brand that has proved how savage, funny, and hilarious, it is. Their social media accounts make netizens laugh by making quirky memes out of everyday things. Whether it's using dialogues from popular Bollywood films or having a quirky take on celebrities' announcements of pregnancy and weddings, they have created funny memes and jokes about everything that people are talking about.
For example, when Alia Bhatt and Ranbir Kapoor recently made their pregnancy public, the condom company's congratulatory post had everyone laughing out loud. Similarly, when the couple shared the news about their wedding, they received a witty wish. They even turned Vicky Kaushal and Katrina Kaif's wedding announcement into a hilarious meme due to their playful personalities. They are winning the content war by being open and vocal by using their audience's lingo to normalize sexual desires.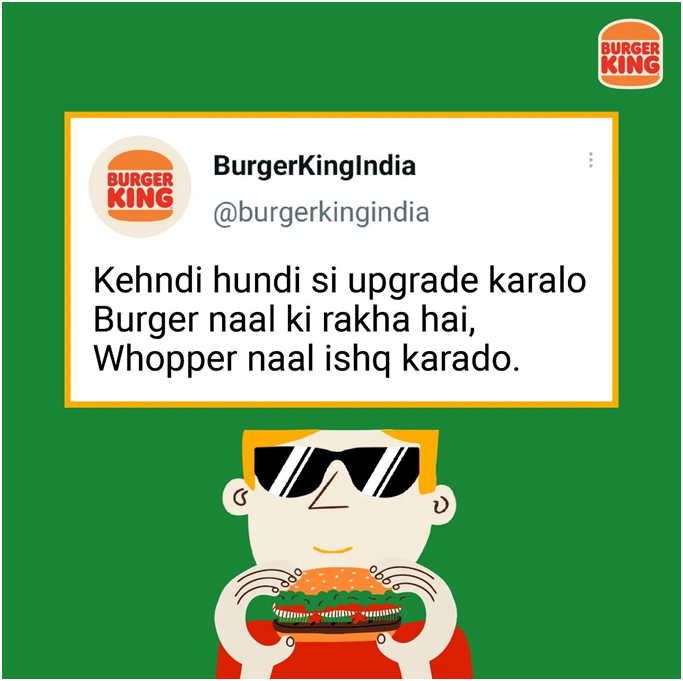 Burger King
Burger King has been successfully utilizing memes to stay ahead of other brands, for quite some time. They made amazing memes on almost everything. Whether it was done for International Men's Day or to proudly display their whoppers in a unique way.
During the last season's Indian Premier League, they were one of the very few brands to launch their own meme campaigns. Under their Meme Premier League campaign, they not only posted one meme moment from each match on their Instagram stories, but they also opened a contest for their users to create memes of their own and win prizes.
Now, how many brands have you seen or heard of launching a full-fledged "Meme Campaign" as a marketing strategy? Burger King realized the power of meme marketing quite early and has been using it effectively. That's what sets them apart from their other competitors.
Demography of Meme Culture?
In recent years, the number of people using social media platforms has grown at an enormous speed. But, in the Indian context, the various interconnected ways in which the market's depth and penetration have played out must be credited. The majority of users use social media sites via their smartphones. Prompted by more affordable data packs and improved Internet connectivity compared to before, more and more Internet users are emerging from almost all income brackets and geographies. It has evolved into one of the most effective means of reaching out to a wide range of consumers, including those in rural and remote areas. A similar trend can also be witnessed in the rise of meme marketing company in India.
The presence of vibrant pop culture is another catalyst behind meme marketing's growing popularity. Many popular memes are based on popular movies and television shows. Popular culture has given us many relatable characters who are well-known across India's various demographics. Indeed, many media companies, including Amazon Prime, Hotstar, and Alt Balaji, have wonderfully used the wide acceptance and multi-cultural link of such fictional characters to endorse their shows.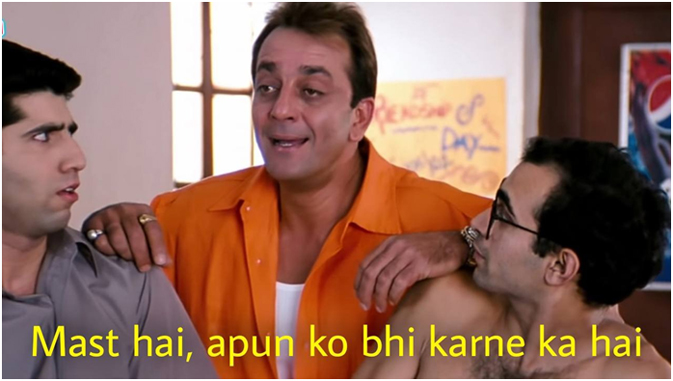 Besides pop culture, another recurring theme that appears to be prevalent in India is the influence of collective attributes such as cricket. With its insanely massive TRP ratings, the Indian Premier League (IPL) season is a jackpot for advertising. However, actual advertising during matches is costly. Memes centered on the league, on the other hand, can be created for a fraction of the price. As a result, it became a popular topic for meme creators. The interesting thing was that, instead of the company, many of these memes were created by regular but dedicated IPL fans. Their active participation with memes was proven significantly larger than that of other marketing companies.
Of course, we cannot forget the Indian population using social media and their peculiar imagination and wry sense of humor. The best way to illustrate this is the creation of the Binod meme two years ago. The now wildly viral term Binod was coined after YouTube creators attempted to clarify why the "Indian Comment Section is Garbage". It was picked from an actual user and indicated that the person was completely clueless. People on social media started to play around with the term and created innumerable hilarious memes. Many brands also hopped on this trend to create brilliant memes of their own.
One of India's major OTT platforms, Disney+hotstar used a character named Binodini Rabindranath Tagore's classic work, Chokher Bali, to share their take on trending Binod.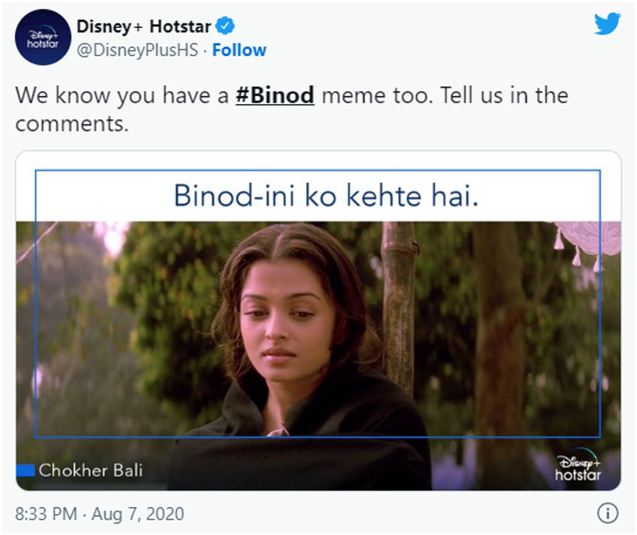 Another streaming giant, Amazon Prime Video turned a hugely popular character from the film Kuch Kuch Hota Hai, Rahul into Binod.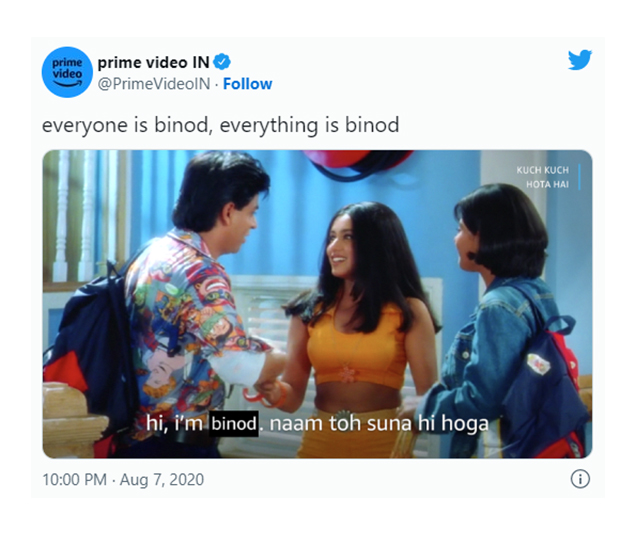 Known for its quirky and tongue-in-cheek humor around dating life, Tinder India, claimed that Binod is using the app for dates.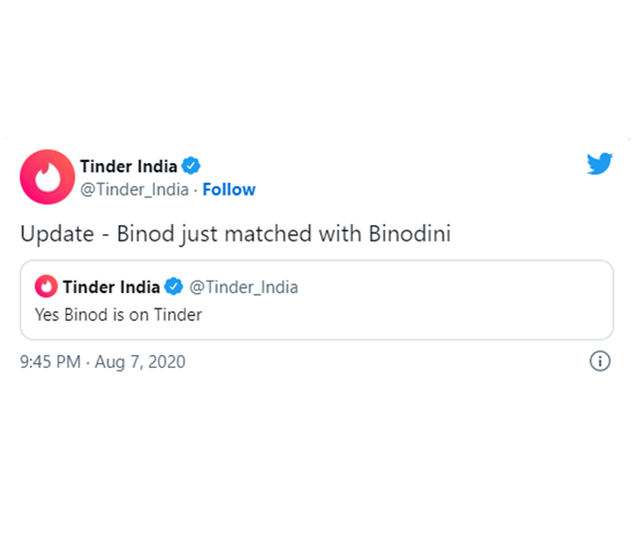 Earlier this year, the Internet was flooded with memes after the Banrakas scene from the second season of Amazon Prime Video's popular web series - Panchayat. Here too, Tinder India upped its meme game.
Meme marketing agency is still in its infancy stage and is changing with every day that goes by. Memes are simple, and there are many internet meme makers with whom brands can collaborate in order to stay competitive.
One should be aware of the fact that memes are not funny to everyone and sometimes they might find them even offensive. It can risk everything, but playing it safe will never make you go viral, and it backfires in a matter of seconds, causing trolling and shame for brands. The same coin with two sides.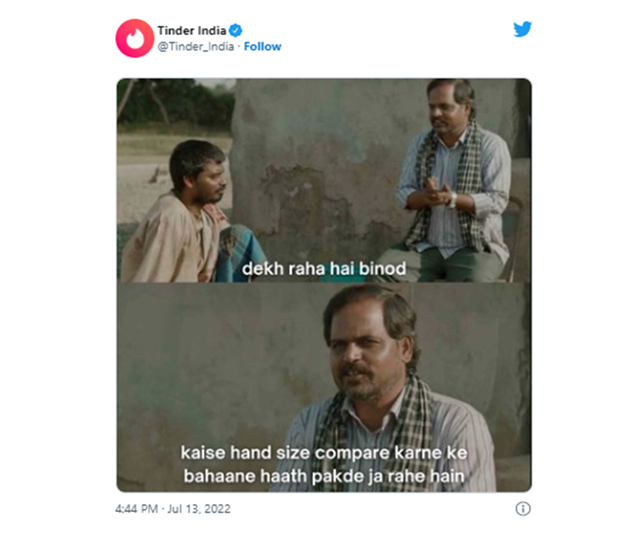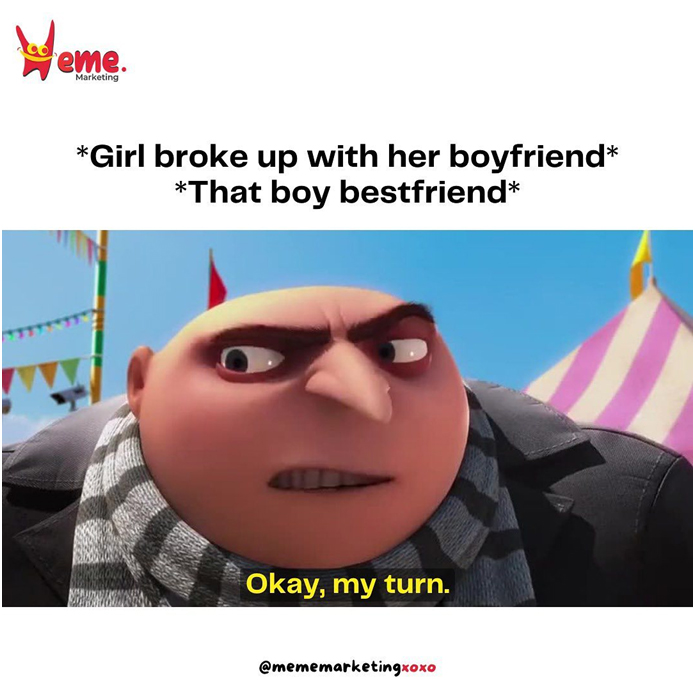 How Meme Marketing as an Agency Can Help Your Brand Grow?
Meme Marketing is an agency, based in Noida, India, that helps brands create a flow of memes that are based on concepts, behaviors, and ideas that spread on the internet and the audience relates to them. It creates campaigns for brands around trendy and timely topics or viral content, powered by the soft power of funny memes. We realize that with content creators coming up with unique and entertaining content every day, competition has increased for brands to engage with the audience in the market. That's why we build effective campaigns for the brands.
If you are finding ways to make your business grow as a brand, you may want to rethink your marketing strategy and include meme marketing in it. Then, Meme Marketing Agency is your one-stop solution for all things meme-making and marketing.