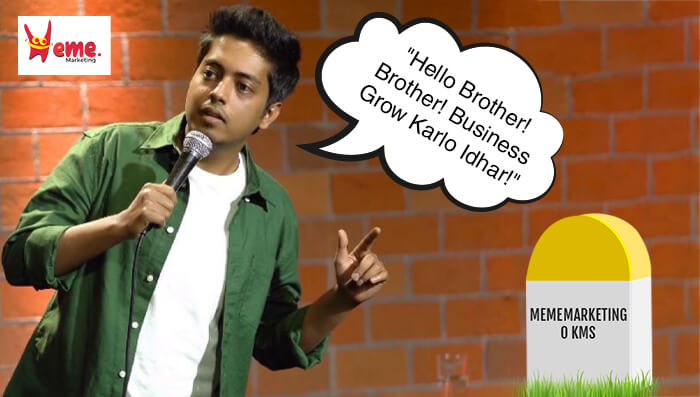 "Excuse me brother!", let's be honest, you have heard of this meme template, haven't you? You just nodded your head with a smile, right? We all agree that memes stay in our minds rent-free. Just think of anything and you will be able to relate that situation with any meme.
Similar to those situations relating to memes, you can also enhance your business or brand with meme marketing. Simply by marketing your brand with trendy meme templates, and now your question would be how and why? Well, the answer to "how" is with the help of a meme marketing company. And in the following words, you will be able to know, "why?".
The Meme Age!
We all are on social media, a platform where you either find things attractive or laughable. But with memes, we all find them ridiculously attractive. Sometimes images communicate the best and when it comes to sharing the language of laughter, memes have got your back.
Memes are indeed Gen Z's language of communication, and a meme marketing company is the educator of that language. However, slowly and steadily meme marketing companies are including the millennial age to understand this language too.
Once ensured that every age can understand memes, if not all the templates, at least the ones that trend the most. Meme marketing is a tactic to increase and establish your social media presence. For creating a brand impression or making your brand remembered to not a bunch of people but a sea or ocean of people.
We, being a meme marketing company, assure that your brand fits the most relatable meme template to define your brand in the funniest way possible. And trust us when we say, the much we try to make your business stand out in the sea of your competitors, each meme template that trends wishes to top the list by saying "HUM FIRST. HUM FIRST"
Memes are like wine, the older the better. A meme template never expires, it always makes the audience laugh even when Hrithik Roshan said, "It's not funny" with creativity even that was funny.
Attracts Social Audience!
Memes are the soul of social media platforms, and if we will pick out memes from them, social media would no longer remain interesting. Memes attract the maximum number of audiences globally. And when your brand is represented with those funny and relatable meme templates it starts engaging a higher audience, and able to say "MAIN JHUKEGA NAHI"
Now let's explain the "Why?", By thinking out of the box and representing your brand most creatively, we, your all-time favourite meme marketing company ensures that we won't say, "YE HUMARA EXPERTISE NAHI HAI. WE ARE OUT", we are the Bandya from Chup Chup Ke, "HUME SAB AATA HAI".
We are the meme marketing company that understands your requirements the best, working creatively and effectively to enhance your business. As memes are recognized worldwide, by combining your brand with the most suitable meme template we help your brand grow digitally.
Meme marketing helps your brand to create a larger and better brand impression on the minds of millions of people out there on social media platforms. Alongside that, to make your brand recognizable by the whole world, your attractive meme templates were created by us, your meme marketing company which eventually lead you to say, "PAISA HI PAISA HOGA". Once you start seeing the graph going higher.
Conclusion: Your brand demands higher engagement rates on social media platforms to grow the business. Where social media is one such platform to engage a greater audience, meme marketing helps your brand to have constantly increasing engagement rates. Inviting more and more people to follow your brand, and in this process, we, your meme marketing company help you at each step.